As Spokane Falls students, you have access to more than 100,000 eBooks through the EBSCOhost eBook collection. Below are a few relevant examples. If you have any questions about using the eBook collection, refer to the Getting Started with EBSCOhost eBooks guide.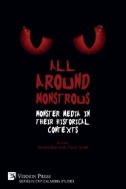 "We know all kinds of monsters. Vampires who suck human blood, werewolves who harass tourists in London or Paris, zombies who long to feast on our brains, or Godzilla, who is famous in and outside of Japan for destroying whole cities at once. Regardless of their monstrosity, all of these creatures are figments of the human mind and as real as they may seem, monsters are and always have been constructed by human beings. In other words, they are imagined. How they are imagined, however, depends on many different aspects and changes throughout history. The present volume provides an insight into the construction of monstrosity in different kinds of media, including literature, film, and TV series. It will show how and by whom monsters are really created, how time changes the perception of monsters and what characterizes specific monstrosities in their specific historical contexts. The book will provide valuable insights for scholars in different fields, whose interest focuses on either media studies or history."
Going Viral: Zombies, Viruses, and the End of the World
"Outbreak narratives have proliferated for the past quarter century, and now they have reached epidemic proportions. From 28 Days Later to 24 to The Walking Dead, movies, TV shows, and books are filled with zombie viruses, bioengineered plagues, and disease-ravaged bands of survivors. Even news reports indulge in thrilling scenarios about potential global pandemics like SARS and Ebola. Why have outbreak narratives infected our public discourse, and how have they affected the way Americans view the world? In Going Viral, Dahlia Schweitzer probes outbreak narratives in film, television, and a variety of other media, putting them in conversation with rhetoric from government authorities and news organizations that have capitalized on public fears about our changing world. She identifies three distinct types of outbreak narrative, each corresponding to a specific contemporary anxiety: globalization, terrorism, and the end of civilization. Schweitzer considers how these fears, stoked by both fictional outbreak narratives and official sources, have influenced the ways Americans relate to their neighbors, perceive foreigners, and regard social institutions. Looking at everything from I Am Legend to The X Files to World War Z, this book examines how outbreak narratives both excite and horrify us, conjuring our nightmares while letting us indulge in fantasies about fighting infected Others. Going Viral thus raises provocative questions about the cost of public paranoia and the power brokers who profit from it."
Remaking the Frankenstein Myth on Film : Between Laughter and Horror
"Focusing on films outside the horror genre, this book offers a unique account of the Frankenstein myth's popularity and endurance. Although the Frankenstein narrative has been a staple in horror films, it has also crossed over into other genres, particularly comedy and science fiction, resulting in such films as Abbott and Costello Meet Frankenstein, Young Frankenstein, The Rocky Horror Picture Show, Bladerunner, and the Alien and Terminator film series. In addition to addressing horror's relationship to comedy and science fiction, the book also explores the versatility and power of the Frankenstein narrative as a contemporary myth through which our deepest attitudes concerning gender (masculine versus feminine), race (Same versus Other), and technology (natural versus artificial) are both revealed and concealed. The book not only examines the films themselves, but also explores early drafts of film scripts, scenes that were cut from the final releases, publicity materials, and reviews, in order to consider more fully how and why the Frankenstein myth continues to resonate in the popular imagination."
Vampire God : The Allure of the Undead in Western Culture / Mary Y. Halab
"In Vampire God, Mary Y. Hallab examines the mythic figure of the vampire from its origins in early Greek and Slavic folklore, its transformation by Romantics like Byron, Le Fanu, and Stoker, and its diverse representations in present-day popular culture. The allure of the vampire, Hallab argues, lies in its persistent undeadness, its refusal to accept its mortal destiny of death and decay. Vampires appeal to our fear of dying and our hope for immortality, and as a focus for our doubts and speculations, vampire literature offers answers to many of our most urgent questions about the meaning of death, the nature of the human soul, and its possible survival after bodily dissolution ... Vampire God is a thoroughly researched, ambitious study that draws on cultural, anthropological, and religious perspectives to explore the significance and function of the vampire in relation to the scientific, social, psychological, and religious beliefs of its time and place."